When people think of Vegas, they think of gambling; but many visitors enjoy other activities when in the Entertainment Capital of the World. In our opinion, Las Vegas can be like touring a Hollywood Studio lot, relaxing at a spectacular hotel resort that are amazingly affordable while seeing replicas of tourist destinations from around the world.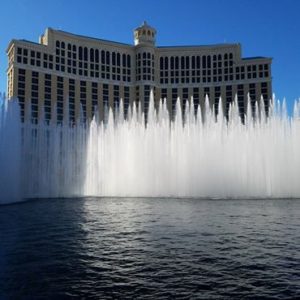 SHOWS:
As you would expect the Entertainment Capital of the World has a spectacular list of shows for a variety of interests -showgirls to headliners. We recently saw two shows: Terry Fator the Voice of Entertainment and Michael Jackson One (Cirque de Soleil). Both were entertaining and ones we would recommend. Previous visits we have seen the Blue Man Group, Mystere, and Jabbawockeez, we would certainly return to these but always seem to find a new one that we want to see too. What a nice problem.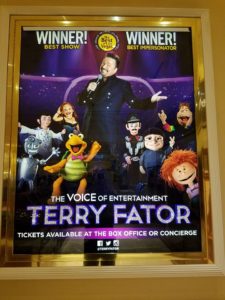 HOTELS in Vegas:
Vegas hotels are often themed; we enjoy walking around the various resorts. You truly feel like you are traveling around the world. The Luxor makes you feel like you are in Egypt while the Venetian is like strolling around St. Mark's Square in Venice with gondolas riding by. If you are fortunate you may be serenaded, there is a fee for the gondola ride (fun memory). If you love New York, then you will enjoy the New York New York with Time Square and Central Park among the slot machines. Mirage has a volcano that erupts nightly or TI (formerly Treasure Island) has a nightly show too. During the day & night you can see dancing fountains at the Bellagio (or smaller ones at the Wynn).  Inside the Bellagio, Mirage & Wynn they have lovely common areas that are nice to visit when the weather outside is not comfortable. These are only a few of the hotels that you will enjoy visiting.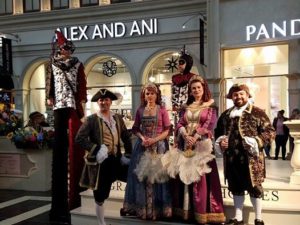 MOVIE SET:
Vegas has been in many movies, this last trip we went to visit a couple of the filming locations. The Bellagio Fountains were in Ocean's 11 and What Happens in Vegas. If you saw the 2013 movie, Last Vegas, you may recall the pool scene at Aria Resort. Caesars Palace has been in over 20 movies, there was one iconic images of Robert Redford (Electric Horseman) on a horse riding through the casino during this 1970's movie. Or the hit movie, The Hangover, when Alan asked "did Caesar live here?" Vegas resorts certainly provide a spectacular backdrop for any movie.
FREEBIES in Vegas:
When you think of Vegas, you often don't think of free or getting paid but we experienced this during our last visit. It sounds crazy, but we visited CBS Television City Research at the MGM Grand located by the tram entrance. It was fun to participate in a free research study while watching a TV pilot. After completing a brief survey we were approved to participate in a research study where we earned $50 each and were introduced to some new technology. It was fun and a "profitable" morning. As I mentioned earlier, there are several free things to do in Vegas. Here are some other ideas: Freemont Street Experience, Flamingo habitat, Welcome to Las Vegas sign, the Fall of Atlantis show (Caesars Forum), Carnival (opera performance) at the Venetian in St Mark's Square, and so many other things to see. There is a free tram that connects Monte Carlo and Bellagio, plus another one in between Excalibur and Mandalay Bay.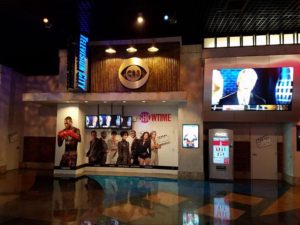 BARS in Vegas:
We discovered a bar, Mandarin Bar, it is a classy lounge with a breathtaking view of the Las Vegas strip (photo below). Revisited the Mandalay Bar now called the Foundation Room, it has a DJ. If you are looking for a view it is blocked by the bar but you can see a fantastic view of the strip on their balcony. If you enjoy music then we would suggest the Foundation Room, if you are looking for an unobstructed view and conversation then the Mandarin Bar. Another bar we liked was the Chandelier, it is elegant; we went up a flight of stairs where they do creative drinks. We tried one drink that uses all the senses, a great mixology experience.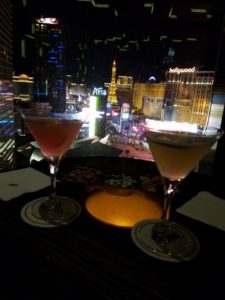 DINING in Vegas:
Vegas is also well known for food and lots of it! We have some favorite restaurants, but this trip we tried some new ones that we wanted to share with you. We tried Hash House a Go Go, oh my goodness huge portions (photo below). If you are looking for a hearty meal we would suggest a visit. Chin Chin (NY NY hotel) is an Asian restaurant that serves generous portions that are tasty with attentive service. Previous visits, we have enjoyed the Bellagio Buffet which is very well done. This visit we tried the award winning,  Bacchanal Buffet at Caesars Palace. We had 500 choices that were prepared the way you would expect at a gourmet restaurant.  It was very good plus attentive service that can be lacking at some buffets, we will return. The choices for dining are endless in Las Vegas, so bon appetite!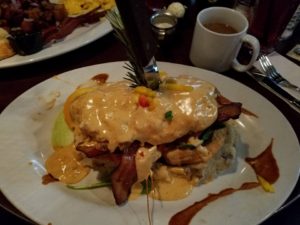 As you can see Las Vegas is definitely more than gambling, so if you are not a gambler do not worry you still have plenty of things to do – dancing, dining, shows, site seeing, etc. There are also side trips to the Grand Canyon and Hoover Dam, if time permits. Have fun in Las Vegas!
Follow us on Facebook, website ( BretonTravels.com ) & Twitter and certainly come back to see our other adventures!
Follow us by following us – links below
We encourage you to visit our sponsors (ads) on each page.