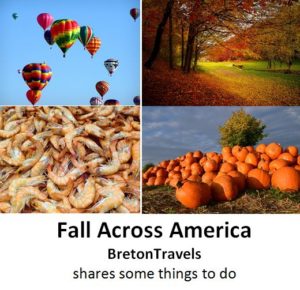 Looking at Fall foliage and exploring festivals are a wonderful past time in the US this time of year!
Fall is in the air! Where ever you live in the USA, there are opportunities to celebrate the change of season (list of Fall Festivals & Activities below). This time of year we say goodbye to the warmth of summer and hello to the crisp fall weather. I grew up in the #Midwest and my husband in #NewEngland so one past time we enjoyed as children was seeing the change in foliage. As we moved to the south, we no longer saw the drastic change in the leaves as they turned red, yellow and orange in the northern states.  Fortunately, I married an adventurous person; so we like to take #RoadTrips to see nature's artistic brush strokes, as green leaves change to brilliant colors. The Gulf Coast trees do not provide this display so we go find them. Here is a website that may help if you decide you want to do some exploring and estimates of when to venture out:
Having lived in the south for many years, I have learned to love the weather and Fall festivals. For example, Alabama & Texas both host Shrimp Festivals while Louisiana has an Annual Pecan Festival. Key West hosts Fantasy Fest which is like Mardi Gras but this party takes place when the weather is amazing. There are state and county fairs with contests, entertainment and family fun for all. If you want to attend one of the most photographed events in the world, then venture to the Albuquerque International Balloon Fiesta.
Where ever you live, do consider making fall memories by exploring your city or state like a tourist. We have compiled a list of a variety of Festivals for #Foodies, Adventures, Traditionalists, Nature lovers, Science geeks, farmers, photographers, or someone looking for something crazy to do!
Life is an adventure so have fun embracing the beauty of autumn in the USA!
Fairs
*State & county Fairs are fun to enjoy
Food, Beer & Wine Connoisseurs  may enjoy:
*Great American Beer Festival is October 6-8 in Denver Colorado
*Harvest on the Harbor is Oct 20-23 in Portland, Maine from Thursday, October 20 through Sunday, October 23 is a weekend for foodies.
*Barbecue Festival is October 22 in Lexington, NC. "Barbecue lovers" check it out Saturday, October 22, 2016. Lexington, NC
*Maine Harvest Festival was awarded the 5th Best Harvest Festival in the country by USA Today! Bangor, Maine hosts this event November 19-20. This festival "brings together farmers, food processors, brewers, fiber artisans, chefs, presenters and YOU"
Nature opportunities
*Great Basin National Park hosts Astronomy Festival September 29 – October 1, 2016
*Bridge Day is October 15 on the New River Gorge in West Virginia. It is "one of the largest extreme sports events in the world". It is annually in Fayette County, West Virginia (WV),
*Albuquerque International Balloon Fiesta" October 1-9 – another colorful event that you will not want to miss photographing
*Fall Foliage – take a drive to see the change in leaves #LeafPeeping #FallFoliage2016
 Traditional Festivals based on Harvests / Farming
*Galveston Island Shrimp Festival September 23-24 Galveston Shrimp Festival
*44th Warrens Cranberry Festival is the world's largest festival is September 23,24,25 – 2016
*Trailing of the Sheep Festival is Oct 5-9, 2016 in Sun Valley, Ketchum, & Hailey Idaho
*St. Charles Scarecrow Fest is October 7-9 in St Charles, Illinois
*45th Annual Gulf Shore's Shrimp Festival Oct 13-16  Gulf Shores' Shrimp Festival
*Greatest Free Show On Earth is in Circleville, Ohio October 19-22, 2016.
*Louisiana Pecan Festival November 4-6 Pecan Festival
Fun Fests
*OZToberfest is a festival for Wizard of Oz fans and it is in Kansas! Dorothy and her Wizard of Oz friends will be there October 1 in Wamego, KS
*Fantasy Fest in Key West, FL is October 21-30 This festival is "an annual 10-day party in paradise for grown-ups." "10 days filled with costuming, parades, libations, and excitement!"
*"WHO WANTS TO SEE A PUNKIN FLY"? Delaware hosts World Championship Punkin Chunkin to answer that question check out this festival November 4-6 in Dover, DE
Please let us know if you have any favorite fall festivals not listed above. Thanks for following us.
Breton Travel's Website link          Twitter    Facebook
We encourage you to visit our sponsors (ads) on each page.
#BretonTravels #FallTrips #WeekendGetaways