Nashville has many nicknames Music City and
"Songwriting Capital of the World". It is where many genres of music have roots.  This was our first visit to Nashville and we loved the charm of the city. Many of tourist destinations we visited were close together, so we parked in one spot then we could easily go from one place to another. We visited during the Country Music  Awards, so  there was added excitement in the air. Good Morning America broadcasted live and CMA trucks were selling fan gear plus Country music icons were in town.  While in Nashville w
e walked around Honky Tonk Row and enjoyed seeing many tourist sites in Nashville: Parthenon, Studio B, Grand Ole Opry, Walk of Fame, Ryman Auditorium, and Country Music Hall of Fame. In a previous blog, we shared our visit to Andrew Jackson's Hermitage in the Nashville area.
Pancake Pantry
We started our Nashville experience eating delicious pancakes at the Pancake Pantry which is close to the Vanderbilt University campus. The menu has a huge variety of pancakes, one of us had a berry pancake and the other had Caribbean pancake. Both were delicious and if you like pancakes it will be one of your favorites too.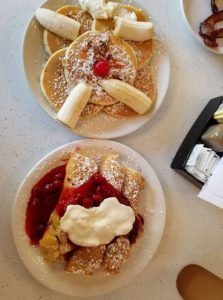 Ryman Auditorium:
Ryman Auditorium has had many names over the years: Union Gospel Tabernacle, Carnegie Hall of the South, and Mother Church of Country Music. Today tourists may visit this historically rich auditorium.

 

The Ryman was our first tourist site in Nashville because of its long and fascinating history. Many great performers have taken the stage at the Ryman – Bob Hope to ZZ Top even President Theodore Roosevelt. We recommend the Backstage tour so you can see the dressing rooms and see the stage from the vantage point of the performers, the wings that Elvis and many others have waited at before taking the stage. They have a movie and it is one of the best ways to visually present the history of the Ryman. We did this first then ou
r backstage tour, doing it in that order put things in perspective for us. You can also make a CD but we decided the world would still be complete without a song recorded by us!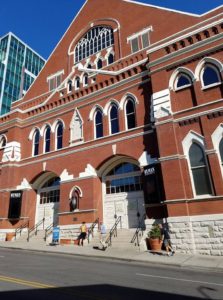 Walk of Fame
A short walk away is the Walk of Fame.
Just like Hollywood, Nashville has a "Walk of Fame" but this one honors contributors to music. See if your favorite musician has a star by checking this website or come to one of the inductee ceremonies when in Nashville. October 5th they had a ceremony for Tim McGraw & Faith Hill as they unveiled their star.

 
It is open 24 hours a day and is free, just in front of the Country Music Hall of Fame.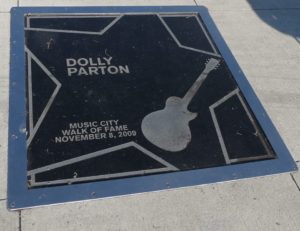 Country Music Hall of Fame
Country Music Hall of Fame is correctly nicknamed the Smithsonian of Country Music. We were impressed with the number of exhibits presented in a timeline manner. This was our second stop on our Nashville tour, quite honestly we could have spent at least a half a day or longer here. We bought an audio tour but would not suggest it to others since the displays are labeled well and we did not see the numbers for the audio prompt as easily. We did not come here with children but

 

did notice Activity guides at several spots which would make this a good

 
tourist
d

estination for a
family trip
.
It appears that they change out certain exhibits provides more in depth on certain entertainers – we enjoyed th

e
Blake Shelton
exhibit – they had the Voice show chair and other memorabilia from his career. The
Johnny Cash
&
Dylan
exhibit was interesting too plus the
Alabama
b

and exhibit was impressive too. We also saw the Country Music Hall of Fame Rotunda where the honorees plaques are hung.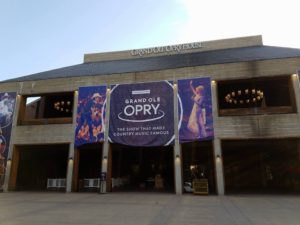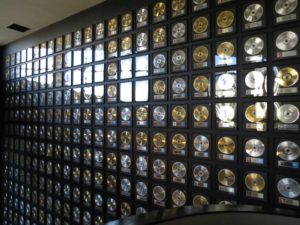 Puckett's Gro
A friend suggested this restaurant which is just a block or two away from the Ryman Auditorium. We tried it during lunch and it was very busy. We tried the fried chicken and BBQ, both were good. If you want to enjoy a nice lunch in a Nashville landmark then try Puckett's
Studio B
This was probably one of our favorite tours next to the Ryman. Studio B is awesome. Our guide did a great job bringing us back in time, as we listened to some of the hits recorded here by music legends. We saw the studio and even sat at the piano Elvis played.

 
The number of hits made here is amazing.

http://studiob.org/ContentPages/history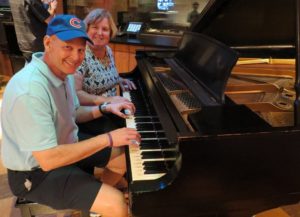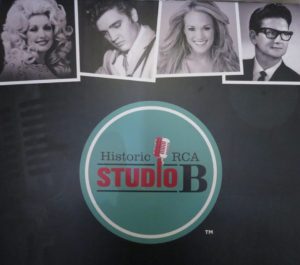 Grand Ole Opry
Grand Ole Opry is the #1 tourist destination in Nashville. The couple days we took Nashville by storm, the Opry was closed – we saw elves decking the halls no doubt for the holidays. This is definitely worth a visit even if it is from an outside view, but we would suggest a concert and tour. We were told that the Opry has a section of the Ryman stage in its stage, so the history continues here. The Grand Ole Opry left the Ryman to this new location back in the 1970's. They continue to have the show and launch many careers.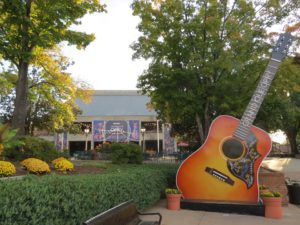 Parthenon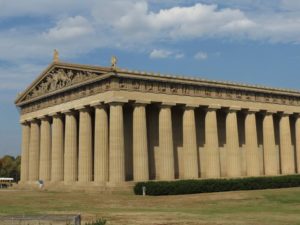 Honky Tonk Row
We loved walking around Honky Tonk Row during the day, but must say it really comes alive at night. It is a great way to hear up and coming musicians.
Nashville Hotels
Hermitage Hotel
has an ambiance that is rare in modern hotels, as you approach the hotel you know it is historically rich and a five star hotel. We felt the interior reminded us of a European hotel with the European Renaissance décor.
"The Hermitage Hotel was the national headquarters for both pro and anti-suffrage causes, while the state legislators cast their votes that brought about the ratification of the 19th Amendment."

 
The Hermitage has also had several presidents and many celebrities visit it.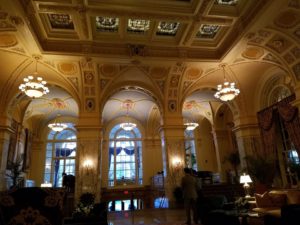 Gaylord Opryland Resort
is a large convention hotel with a beautiful atrium. The day we visited elves were busy getting ready for the Gaylord's Country Christmas. It was impressive as they hung like window washers from scaffolding hanging up beautiful Christmas decorations.
Todd has stayed here a couple times, but this was Cindy's first visit. The hotel is next to a mall and the famous Grand Ole Opry. It is farther away from many of the Nashville tourist sites in the downtown areas.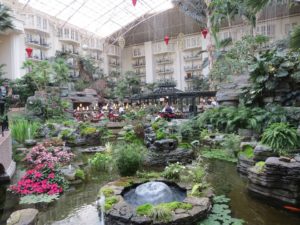 Union Station Hotel
in Nashville made us feel like time travelers. The grand lobby is a beautifully restored train station. As you can see from our photos the 65 foot barrel ceiling has stunning stained glass that is over 100 years old. They have a schedule posted of trains that left from the station many years ago when train travel was in its' golden age. This boutique hotel with 125 rooms is part of the Marriott's Autograph Collection. The guest rooms were recently restored

 

with a more modern décor, in our opinion we think with the ambiance and older charm of the lobby they should have selected Victorian reproduction furniture from the Train Stations era. Nevertheless, if you are in Nashville certainly check out this piece of history from 1900.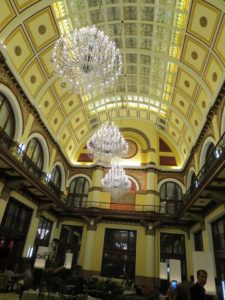 Please follow us on
Twitter
and
Facebook!
   We encourage you to visit our sponsors (ads) on each page.
Happy Travels
Breton Travels