Goose Island State Park is a series of several State Parks in southern Texas. This park is a short drive from Rockport and easily accessible for a small fee.
About Goose Island State Park
The park covers over 321 acres. It is surrounded by two bays, St. Charles and Aransas. The park was established on land acquired from private owners between the years 1931–35. The Civilian Conservation Corps built some of the earliest facilities. The highlight is extraordinary park is the The Big Tree. It's believed to be 1000 years old and the circumference is 35 ft.
The park is surrounded on one side with water and its interior consists of mudflats and marsh's. You are able to camp, bird watch, fish and boat from the park.
What To Do
BretonTravels visited the park in the midst of the Covid-19 pandemic plus 4 years post Hurricane Harvey. You weren't able to purchase day passes at the entrance gates. When visiting their website, https://tpwd.texas.gov/state-parks/goose-island, you are required to purchase your pass through the Internet, in advance. When you arrive, the park host will have your name and provide you a receipt which is taped on your inside windshield. The day pass costs $5.00 per person as of July 2020.
Loop
Goose Island State Park has a very interested loop called Lantana Loop. There are few stopping areas along the way to look at the interior coastal plains in addition to several camp site. Along this loop there is a trail Turks Cap Trail. BretonTravels didn't hike this trail due to the threat of rain and very warm temperature.


Bayfront Camping
This area was closed for repairs due to Hurricane Harvey damage. When operational, you can camp on the beach. Even thought BretonTravels couldn't drive to this area, we took a short walk to see the beauty of the beach area and fresh air of a ocean breeze.

The Big Tree
The Big Tree is part of state park, however, you don't have to pay an entry fee to this beauty of a tree. This tree is of the most famous live oaks in the world. It was named the Texas State Champion Virginia Live Oak in 1969. It maintained this title until 2003 when a larger oak was discovered 3 hours northeast of Rockport, Brazoria County, Texas. One fun fact, this oak sustained very little damage during Hurricane Harvey.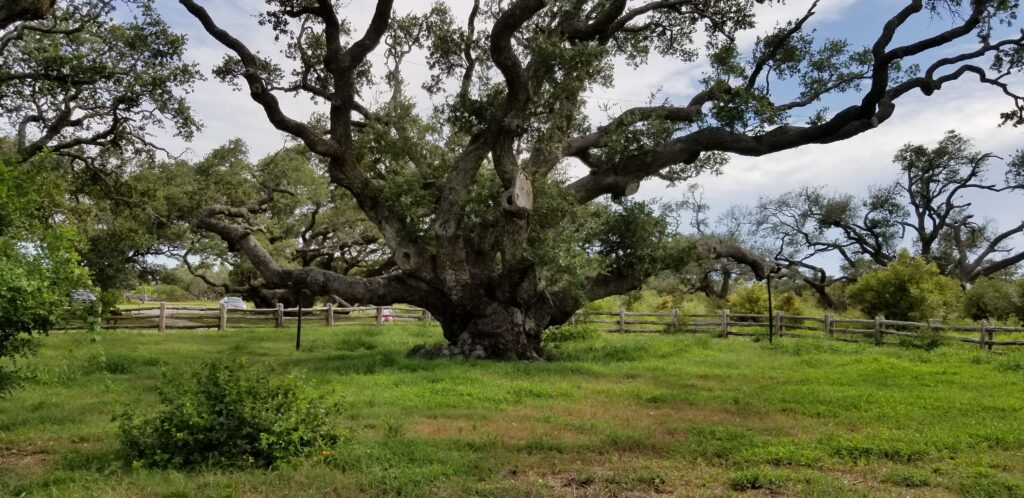 When visiting Rockport, this state park is a must see. We thoroughly enjoyed our visit and highly recommend it.